Greek Turkey Stuffed Eggplant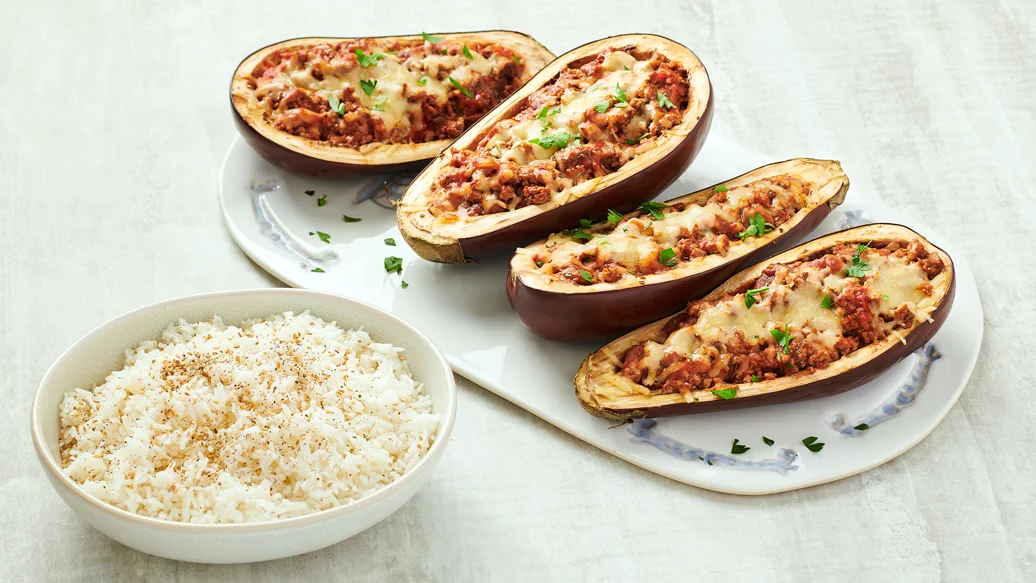 20 min
4 servings
$3.87/serving
Perfectly Balance Your Plate
Serve with 1⁄2 cup rice. For ease, fold rice right into meat mixture before filling eggplant shells.  
Ingredients
2 small eggplants 
2 tsp oil
1 lb (450 g) ground turkey or lean ground beef
1 cup tomato sauce, your choice
1⁄2 cup grated mozzarella cheese
Toppings (optional): plain Greek yogurt, sliced green onions or chopped parsley, hot sauce
Preparation
Preheat oven to 400° F.  
Slice eggplants in half lengthwise. Cut around the insides of each half. Score flesh in a diamond pattern, being careful not to pierce the skin. Use a spoon to scoop out flesh, leaving each half with a 1⁄4" thick shell.  Chop eggplant centres into small pieces; set aside.   
Place eggplant shells in Multipurpose Steamer. It's OK if they overlap. Cover; microwave on high for 2–4 min, or until softened. Set aside.   
Meanwhile, in a large oven-proof skillet, heat oil over medium-high. Crumble in turkey and add dressing mix. Stir often, breaking up large chunks as needed, until cooked through, 3–4 min. Add eggplant centres and tomato sauce. Cook, stirring often until softened, 2–3 min.   
Remove eggplant shells from steamer; scrape filing mixture into steamer. Place shells in the skillet (don't wash). Generously fill shells with mixture; press in to pack down. Sprinkle with cheese. Bake until cheese melts, about 3 min. Serve and add toppings, if desired.  
Nutritional Information
Per serving (1/2 eggplant): Calories 300, Fat 14 g (Saturated 4 g, Trans 0.1 g), Cholesterol 85 mg, Sodium 530 mg, Carbohydrate 19 g (Fibre 9 g, Sugars 9 g), Protein 29 g.
Tips
Use your favourite tomato sauce or try Marinara Sauce. One jar makes up to 24 cups of sauce.